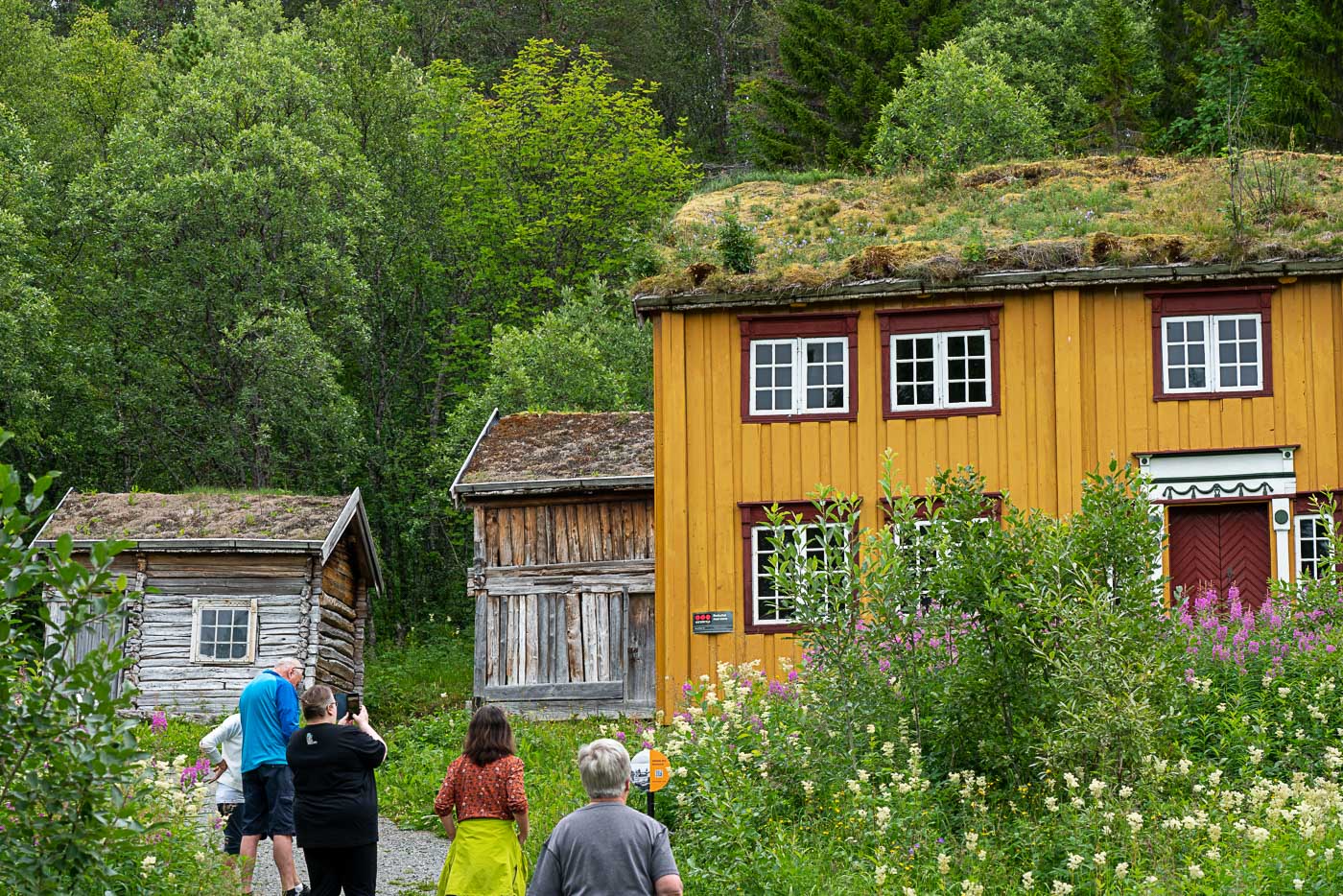 At the very south of Tromsøya island you'll find the Folkeparken with the former Troms Folk Museum. The park and historic buildings are beautifully situated in the city's most popular excursion area.
Summer in Folkeparken
The museum is open on Sundays in the summer season. We have activities for the whole family: Join a tour of Kvitnesgården, have a coffee outside the small kiosk or participate in games or other activities.
Open-air perspectives
The open-air museum is not fenced in, and you can always wander between the old houses. The museum regularly has projects to upgrade and make the facility relevant today. It can be a collaboration with an artist, school classes or others. Even if you are familiar with the area, you can therefore occasionally encounter something new, such as beehives, a mural or an installation.
History of the museum
Troms Folk Museum erected the first building in Folkeparken in 1963. By then, enthusiasts had been working on the matter for 40 years. They were inspired by open-air museums in the south of Norway, but wanted to build something distinctive in the north. Showing coastal culture was important.
The buildings are from Tromsø and the neighboring municipalities of Balsfjord, Karlsøy and Ibestad. They are divided into two farmyards, the trading post and the coastal farm.
The trading post Kvitnesgården
Kvitnesgården is the center of the houses on the lower side of Kvaløyvegen. The building from 1826 was originally the main building at the trading post Kvitnes on Vannøya in Nord-Troms. The northern Norwegian trading centers were economic and social centers along the coast in the north, and were open to impulses from Central and Southern Europe.
In Stornaustet there are two well-used large Nordland boats. They are the centerpieces of the exhibition In Cod We Trust.
Mortengården
On the upper side of Kvaløyvegen is a large farmhouse from Straumshamna on Kvaløya. It is the center of a yard that is meant to represent a coastal farm. The house was originally a two-room house built in the second half of the 18th century. It was altered to its current appearance in the middle of the 19th century.
Summer season 2023
Folkeparken Open Air museum will be open for visitors every Sunday between 12.00 – 16.00 in the period June 25th until August 20th.
There will also be fun activities for the whole family!
Guided tour in Kvitnesgården – drop-in 12–3pm (NO/EN)
Exhibitions in Folkeparken
These exhibitions can only be visited on Sundays during summer season